Village Kopošići near Ilijaš is now deserted. No one lives here anymore, yet people have lived here for hundreds of years. The medieval town of Dubrovnik and the beautiful necropolis of stećak tombstones primarily witness the continuity of life in this area. One kilometer away from each other, they clearly reflect the life and death in the Middle Ages.
The necropolis itself is one of the most beautiful. The central part of the necropolis is located on a small hill. Other monuments, about 30 in total, descend further down the slope. The Grand Duke of Bosnia, Batić Mirković, was buried in this respected cemetery. A very valuable epitaph lies on his monumental tombstone - a duke's gabled stećak with a plinth weighing more than nine tons - which is a true treasure trove of historical data:
† Va ime Otca i Sina i Svetago Duha, amin. Se leži knez Batić na svojoj zemlji na plemenitoj, milostiju Božijom i slavnoga gospodina kralja Tvrtka knez bosanski. Na Visokom se pobolih, na Duboku me dan dojde. Si bilig postavi gospoja Vukava s mojimi dobrim, i živu mi vjerno služaše i mrtvu mi posluži.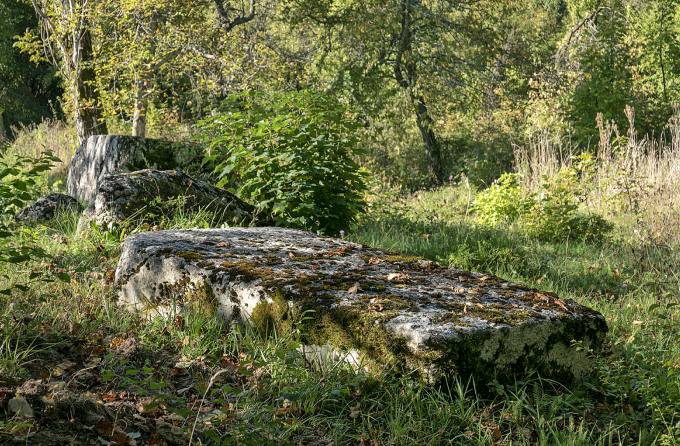 The inscription shows that Grand Duke Batić was buried on his property, that his wife Vukava along with his good servants and friends set up the monument, that he was the duke of King Tvrtko II Kotromanić, who reigned twice in 1404. to 1408. and from 1421. to 1443. According to local beliefs, the monument to his right belongs to his wife Vukava. The legend says that Batić's father - the Bosnian duke Mirko Radojević was buried at the same necropolis. He was the duke in the court of King Tvrtko I and can be said to be an even more significant socio-political figure than Batić himself. Based on all the facts, the necropolis dates to the late 14th and early 15th century.
More than 30 tombstones stećci are located at the necropolis. Duke Batić's stećak is type of a tall duke's gabled tombstone with a plinth. It is of monumental dimensions, over two meters long, over a meter wide, and weighing over nine tons, decorated with ribbon that extends along the edges of the monument. At the front, the ribbon separates at the bottom into two braids which are lowered to the base. The stećak itself is the embodiment of monumentality, simplicity and harmony of form and ornament. Well - known art historian Đoko Mazalić calls it one of our most beautiful stećak tombstones.
The tombstone "Vukava's stećak" is also monumental and highly decorated. It is a gabled stećak tombstone with a plinth in which one side of the plinth is recessed beneath the monument itself – the variation not documented on any other stećak tombstone. By type it is a duke's gabled tombstone with plinth. Its edges are accentuated by a corded ribbon that divides the roof panel in two. There were three apples on the ridge (later demolished), and the roof panels were covered with ornament in the form of a wooden shingle, creating the appearance of an eternal house. On the front and sides there are ornaments in the form of spirals, rosettes and bunches.
During 2015, archaeological excavations were carried out at the necropolis. Beneath another duke's gabled tombstone with a plinth, a skeleton of the deceased was found, buried without a head and covered with an extraordinary mantle woven with gold and silver thread. DNA analyzes revealed that it was Mirko Radojević who was also a Grand Bosnian Duke and an even more prominent figure than his son Duke Batić Mirković. It is unknown why he was buried without a head. Did he lose his head in battle or was he beheaded for some sins? His mantle is exhibited today at the National Museum of Bosnia and Herzegovina in a room along with the Haggadah and Bosnia and most significant national medieval monuments.
There is another small, child's gabled stećak tombstone that should be emphasized too. It is monolithic with two plinths, which is an extremely rare occurrence in stećak tombstones. All its edges are accentuated by a corded ribbon, with spiral ornaments on the front. Apart from these four monuments, only one has a crescent moon decoration.
The necropolis in Kopošići certainly belongs to the most beautiful and coherent monuments of our Middle Age. In this cemetery, beneath the monumental stećci tombstones some of Bosnia's most significant figures from the turn of the fourteenth to the fifteenth century are laying. Due to its significance, the necropolis was proclaimed a National Monument of Bosnia and Herzegovina.