Blidinje is the northern Herzegovina's nature jewel. This distinct Karst plateau is located in the northeast-southwest line between mountains Čvrsnica, Muharica and Vran. The Dugo Polje plain is spread in the central part of Blidinje. The entire area, declared a Nature park, today locates in the Bosnia and Herzegovina's municipalities of Mostar, Posušje, Tomislavgrad, Prozor-Rama and Jablanica. It is named after Lake Blidinje, located on the lowest, southern part of Dugo Polje.

There are several necropoli with stećci tombstones located on this area, the largest one positioned in Dugo Polje. The necropolis is named after it. With the number of 150 preserved tombstones stećci on it, it represents one of the biggest necropoli in general. The tombstones appear mostly in the form of slab, precisely 72 of them evidenced, then 59 crates, 14 tall crates and five gabled tombstones, four of which are with plinths.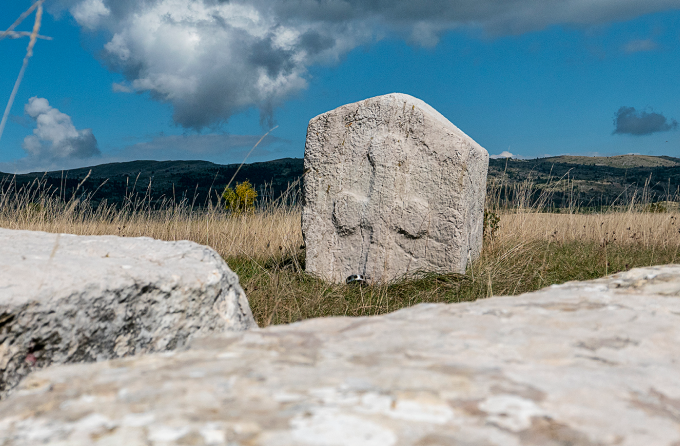 The decorations found on total 32 tombstone stećci are mostly rosettes, appearing 34 times altogether. Most interesting decorations surely are the figural images. The three of those are especially unique and do not appear on any other stećak tombstones. The first one is found on the crate front, partially damaged today. There is an image of a man standing on the left of the surface. Another man stands to his right, with arms raised obliquely towards the head of the first. Behind him, stand two or three more men with their hands raised in the same manner. The meaning of this unconventional scene still remains unclear.
Another monument, formed in a large crate and decorated on all sides, also shows an unusual figural representation. The image of three men dressed in long shirts, characteristic local folk attire, is shown on the northeast front of another stećak. The picture of a crescent moon stands next to the heads of edge figures. There is a six-leafed rosette between the head of the left and middle men. No similar scenes are found on other tombstone stećak. This image might be demonstrating three deceased in a recumbent position, suggesting this could be a tomb with three people buried in it. Of course, only archaeological excavations can confirm this presumption.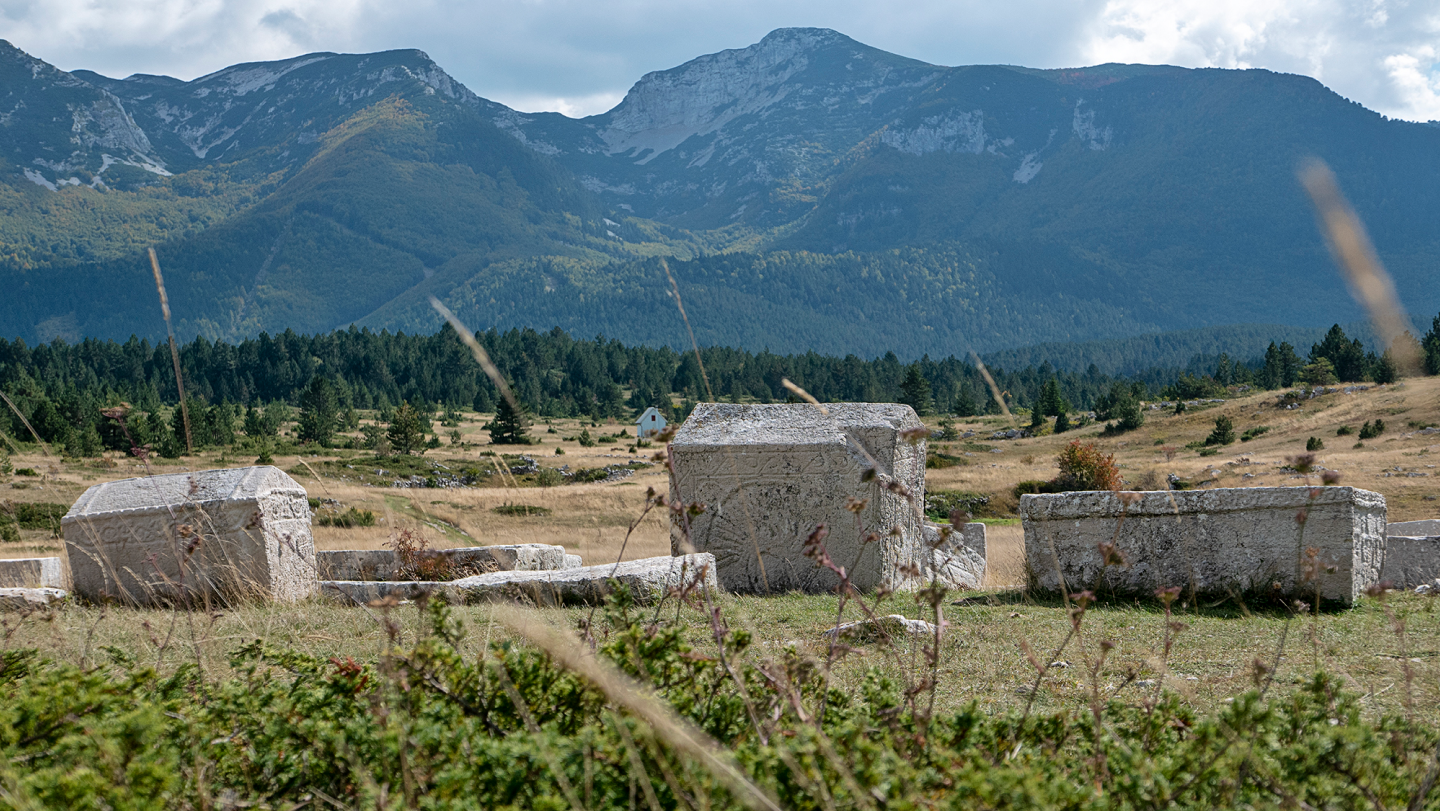 The third unique scene is placed on the northwest side surface of the monolithic gabled tombstone stećak, with a base decorated on all sides. Inside the area bordered with frieze stands a graphic image of a fantasy animal. It is hard to tell which animal it could be. According to Šefik Bešlagić, it is Pegasus. It also resembles slightly to a peacock and a turkey. There is an image of a snake above this mysterious animal. The whole strange illustration is really hard to comprehend. The true mystery mirrors in a question of how the blacksmith from Blidinje got inspired for depicting such a spectacle and what message did he try to deliver. The rest of the gabled stećak sides also show interesting motifs: the deer hunting scene where the horseman is assisted by a dog, a mixed dance kolo played by three men and two women, a roe deer with a raised head, rosettes, borders and ribbons. It is one of the most decorated stećak tombstone on the necropolis, but also one of the most interesting in general.
The unusual aspect of these tombstones stećci is that none of them have any epitaphs inscribed, although their aesthetic value is indisputable and their construction evidently costly. Interestingly, not any other tombstone in the Blidinje necropolis have inscriptions. As a result, today we are deprived of the medieval inhabitants' names of this beautiful area, yet so severe in wintertime.
Today, this necropolis is in a quite good condition. There is macadam road passing aside, with a bench offering rest and shaded shelter for all the passengers. Several years ago, the tombstones got cleaned and preserved. Considering its significance and consistent authenticity of expression, this necropolis is included in the UNESCO World Heritage List.