The necropolis Maculje is located around 20 kilometers from Novi Travnik, near nowdays road Novi Travnik – Gornji Vakuf. Following a direction that turn to a macadam road towards the hamlet of Seona, an extraordinary interesting necropolis encounters. Intersected by a rural road, it is positioned along the route of a former Roman road that continued across the Skopljansko polje towards the Valley of Lašva River. During the Middle Age, this area belonged to the Lašva perish administration.
Colloquially known as the Stone Wedding, the legends are still being told in an attempt to explain the origin of this necropolis. According to one legend, the wedding suite traveled from a distant place to bring the bride. They stopped at this very place to get some rest. The fierce storm and cold suddenly hit and turned all the wedding attendants into stone. The bitterly cold weather prevailed and old people started to leave. The other legend tells us about the wedding suite and a bride whose mother did not approve of her marriage. The mother cast a curse upon wedding and, legend says, instantly turned them into stone. Two legends, each one interesting in her own way, remarkably illustrate the intangible folk tradition that has been preserving the tombstone stećci heritage throughout many years.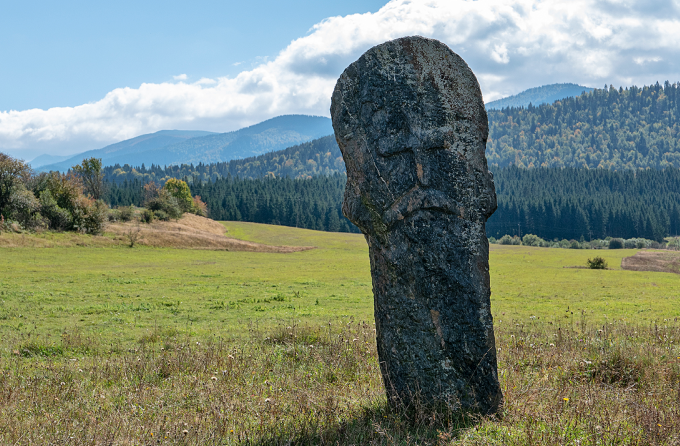 The necropolis today counts 17 preserved tombstones, precisely 52 crates, 32 slabs, 11 gabled tombstones, 16 cruciform. The 6 of them have sank in the ground so deeply that their form cannot be determined. Oriented along two basic directions, west-east and north-south, with slight variations. The tombstones are made of local stones, some properly carved and some almost amorphous and arranged in approximately regular series. Only one crate tombstone contains rather damaged carving of an apple. On the other hand, there are 15 decorated cruciform tombstones and they represent the most important feature of this necropolis. They are recognized as the tombstones distinctive of the Central Bosnia area.
The cruciform tombstones stećci are to some extent anthropomorphic. There are only rudimental representation of a small crosspieces on sides. It is usually one piece, occasionally even two or three of them. The upper piece is constructed in a semicircular shape or "head". The necropolis was actually named "The Stone wedding" after them. The biggest cruciform stećak is 220 centimeters tall, 110 cm wide and 49 cm thick. It certainly looks very impressive.
The necropolis in Maculje is rightfully listed on the UNESCO World Heritage List. According to a well-known art historian Đoko Mazalić, auhor of several pieces about Maculje, monuments of this type "constitute a separate, unique occurrence among cultural monuments in Bosnia and Herzegovina. Considering the fact that no attention has been paid to them on any instance recently, it is plausible that only a small number of them has kept in relatively good condition until today. "